Shop
Festa do Albariño VIP Dinner
Welcome to the First Annual OG Cellars Festa do Albariño VIP Dinner.  We are excited to host you in the OG Cellars climate controlled Barrel Room for an evening of food, music & all things Albariño (along with its Spanish compadre, Tempranillo, as well) on International Albariño Day! This is a LIMITED TICKET EVENT – ONLY 60 SEATS.
International Albariño Days, which run August 1-5, 2018, is a celebration of the Albariño grape to coincide with the Fiesta del Albariño, a gastronomical party, held in the small coastal town of Cambados, Spain during the first week of August. Albariño is traditionally grown in Rias Baixas, a wine region in Galicia in northwestern Spain, and produces crisp, acidic white wines ideal for summer evenings and seafood pairings. It is also grown in Portugal, where it is known as Alvarinho.  As you may know, it grows really well here in Texas!!  We have decided to dedicate a weekend to this amazing wine and the party starts with this dinner celebration!

For dinner we have tasked Chef Juan Rodriguez of Magdelana's Catering & Events to bring his culinary masterpieces paired with OG Cellars wines to your palate.  Before starting his own kitchen at Magdelana's in 2015, Chef Juan was the Executive Chef at Reata restaurant in Fort Worth for eight years.  While at Reata, he was named Best Chef 2008 by Fort Worth Weekly and Regional Winner for Chefs Under Fire in Austin.  Magdalena's has been awarded the staff's pick for "Best Caterer" in 2017 by Fort Worth Magazine and Juan was nominated for "Chef of the Year, 2017" by Tastemaker's Culture Map.  We are honored to have Magdelana's provide the food for this inaugural event! Check out the menu below!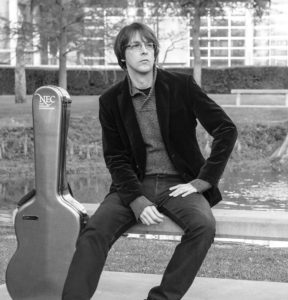 The music for this evening will be performed by Bryan Burns of the UNT Guitar Collegium.  Bryan Burns is currently an Adjunct Professor of Guitar at Tarrant County College and a Doctoral Candidate in Guitar Performance and Historical Musicology at the University of North Texas. As a Doctoral Teaching Fellow, Mr. Burns founded the UNT Guitar Collegium and co-authored the Classical Guitar Curriculum for the University of North Texas. Bryan has won numerous prizes and awards in the field of music, both on the concert stage and academically. He has given concerts and lectures both in the U.S. and Europe.  Bryan will be dazzling us with his mastery of classical guitar performing both classical and pop numbers for everyone to enjoy his gift!
"I have greatly enjoyed the playing of Bryan Burns, a young guitarist of taste, refinement, creativity and a uniquely gorgeous and personal sound. I wish this fine colleague the great success that he so richly deserves"   – Eliot Fisk, world-renowned Classical Guitarist
DINNER MENU
Appetizer
Croquettas de Manchego/ Lemon Aioli
Serrano Ham with Canteloupe
Paired with OG Cellars Sangria Blanco
1st
Shrimp Aguachile/ English Cucumber / Serranos / Cactus
Paired with OG Cellars Albariño
2nd
Chicken and Spanish Chorizo Paella/ Lemon Aioli / Bomba Rice/ Peas / Sofrito
Paired with OG Cellars Tempranillo Winemaker Select
3rd
Coconut Cake with OG Cellars Albariño Sorbet
Each Attendee needs to purchase one (1) ticket for the OG Cellars Festa do Albariño Private Dinner on Friday, August 3rd, 2018.  Seating begins at 7:00 pm with dinner to start at 7:30.  Your ticket includes a 4-course wine paired dinner accompanied by live music and dancing!   You are also welcome to purchase any of our other wines to have with your dinner as well! All Sales Are Final.
Showing the single result